It's time again for our writing assignment from
Mama Kat
.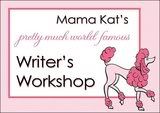 The Prompts:
1.) Write a letter to yourself from someone who has passed on. (ie: parent, grandparent, famous person, friend, pet, etc)
(inspired by Untypically Jia
2.) Create and share a Whrrl story.
(inspired by Whrrl).
3.) Write a Haiku that describes what you love about an ordinary day.
(inspired by Jade from Now that I'm no longer 25…)
4.) What lights your fire? Describe five things you are most passionate about.
(inspired by Musings From Me).
5.) Share some photos and stories as well as what you love about spring.
(inspired by Amanda from Welcome To My Life).
I'm totally tackling numero uno!
Dear Rhonda:
I'm sorry. I'm sorry to have hurt you all. And I'm so sorry for the pain I've caused Buddy.
But let me explain. Please let me try to describe to you what it was like for me.
It was dark. And it was sad. And it was lonely. When life was good, it was wonderful! But when I was in that dark, sad and lonely pit, it was far worse than anything you could ever imagine. I could see no other way out. And I thought it would be best for everyone if I just went away.
What I didn't realize until I was gone was how much everyone loved me. I never imagined that you would think of me and miss me every single day. I was shocked to discover how broken you would all be.
But I was grateful for the way you all gathered around Buddy and helped him through this. It is true that family comes together in the very best way over a tragedy.
I'm sorry that I had to be that tragedy.
I'm so thankful for the beautiful service. All the flowers. All the thought that went into following my final wishes. For going through the trouble of finding the old minister/politician dude to speak on my behalf, only to find out that he probably didn't have a clue who I was. Nice, huh? Haha.
Rhonda, you need to know that I forgive you for not calling that week. It's okay. If I had stuck around, you would have proven what a great sister-in-law you could be. I know that. I wish you had called too, but I made my choice and it has nothing to do with whether or not my phone rang.
I know that you would give anything under the sun to have had the understanding about depression then that you have now. I know that you would rewind to that week when you thought that it was just a phase. An attention thing. I know that you truly didn't think people actually didthat. People just didn't get that sad. And those who made the choice I did were just selfish.
If nothing else, my choice has taught you compassion and empathy and has given you a level of understanding that you would not have otherwise. Sad people would still cause you to think, "Oh, suck it up. Everyone's life sucks sometimes." You see things in a different light now. And maybe one day you'll strike up a career in an area that will help people in my situation. I know that is what you would love to do. Don't give up on that if that's what you really want to do, but don't do it because deep down, you are just trying to save me!
I'm okay. I'm not sad anymore. The sun is out. I'm on an endless beach, with loud waves and the splash of the ocean in my face. I'll see you all again, whether you believe that or not. Oh, I see Grampa coming back to shore now. He has spent the day fishing and is having a great time. He says hello, by the way!
Please send Buddy my love. All of you in fact. And jars upon jars of green tomato pickles for Gramma.
Hugs and kisses,
Shelley